How has the "Canada-Hong Kong Advantage" been put to use?
Canada has enjoyed longstanding bilateral relations with Hong Kong through political, commercial and people-to-people ties. Hong Kong continues to rank among Canada's top 10 trading partners, 8th largest in 2017, due in part to the market's gateway to opportunities in Mainland China and across Asia.
Hong Kong serves as an ideal place to do business, as well as facilitate two-way trade between Canada and Asia for a number of reasons:
The Canada – Hong Kong Avoidance of Double Taxation Agreement and Hong Kong's low and simple tax regime make it a business-friendly environment for Canadian companies
The Mainland – Hong Kong Closer Economic Partnership Agreement, the free trade agreement between Mainland China and Hong Kong, brings opportunities to foreign investors active in Hong Kong in trade of goods and services as well as investment
Hong Kong is a world class financial centre; it is the world's largest offshore Rmb market, 2nd largest IPO Centre and 3rd largest stock market in Asia
Hong Kong is strategically located within 5 hours flight time from half the world's population and its world class infrastructure makes travel, logistics and telecommunications simple for international companies
Hong Kong has business-friendly immigration policies and a strong local pool of skilled talent
Over the years, companies from across the country have taken advantage of this close relationship in order to benefit their international expansion and foreign investment efforts. Read on to learn how other organizations, across a broad range of sectors, have positioned Hong Kong as part of their global strategy and which specific advantages have contributed to their success.
Dermadry Laboratories Inc.
Industry: Medical
Dermadry is a Canadian company that manufactures and sells a tap water iontophoresis device indicated for the treatment of hyperhidrosis (excessive sweating) of the hands, feet, and underarms. Licensed by Health Canada, our device combines simplicity with strict safety standards. Hyperhidrosis is a medical condition that affects nearly 5% of the global population. The rate is even higher among Asian populations. Dermadry have made it their mission to educate the public on the condition and make their device accessible to all. Based in Montreal, Quebec, the device is currently available in over 80 countries across 5 continents.
Hong Kong Advantages 
Asians are genetically pre-disposed to suffering from hyperhidrosis. Since they generally sweat more than others, making our device available to them was one of our key priorities since the onset of our company. There is a lot of misinformation on hyperhidrosis, regarding causes and treatments. Some are not even aware that excessive sweating is a medical condition. 

We felt that it was not only it was our duty to educate, but also make our device available in Asian countries as soon as possible.

Hong Kong is an incredible economic force, and one of our prime markets. Hong Kong's regulations make it simple and accessible for us to do business over there. We've developed a cherished, mutually beneficial relationship that we're always looking to expand upon. 
What's Next?
"We are always looking to expand into new markets and countries. Medical device regulations make this a long process, but we always welcome new challenges, and learning about each country's requirements and licenses along the way. We are also looking to make our device available in stores, pharmacies, and clinics. We have begun collaborating with local medical professionals and are hoping to make our product more accessible to all by making them available in more locations!"
- Mathieu Mireault, Director of Sales, Dermadry Laboratories Inc.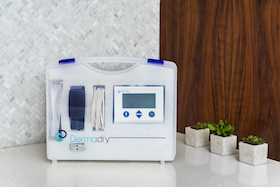 B+H Architects
Industry: Architecture
B+H Architects is an award-winning full service design firm recognized for sustainable design and technical expertise providing a one-stop solution to clients, including master planning, architecture, landscape and interior design. Headquartered in Toronto, B+H opened its Hong Kong office in 2013.
Hong Kong Advantages
Bridging: "Hong Kong is in the best position to bridge the gap for local developers going into the Mainland market and for Mainland developers going overseas" - Catherine Siu, Managing Director, B+H Architects (Hong Kong) Ltd
Human Resources: "There is no lack of talent in Hong Kong. Compared with other jurisdictions in the region, the import of talent is fairly simple and straightforward" - Siu
Economic Growth: The growth in the Mainland Chinese economy has fuelled business growth for the firm
What's Next?
The first year was about testing the market; and the firm is now in full swing, leading a variety of projects (eg. in the hospitality sector and interior design)
B+H Architects hopes to make use of architecture to help people rediscover their identity by taking into account local context and culture and using materials that people can associate with
BTG International Asia Ltd.
Industry: Interventional Medicine
BTG International Asia Ltd was established in Hong Kong in 2014 and is a wholly owned subsidiary of BTG International ( UK). It is a regional head office responsible for the business interests of BTG in Asia. The establishment of the office was led by Nordion ( Ottawa) just before its targeted Therapeutics business was acquired by BTG in 2013. The objective was to eliminate the obstacle of operating at a distance in markets that are materially different from a regulatory, operational and cultural perspective. 
Hong Kong Advantages
Hong Kong is a dynamic international business center in free trade zone with speed, flexibility and low tax. It is strategically located with easy access to many Asian countries
Political and financial stability, transparent and supportive government, compliance to international business practice standard, gateway to opportunities in mainland China are among the reasons for Nordion/BTG to establish its regional hub here
Hong Kong also has a strong liver cancer research foundation and global reputation in life science advancement. 
What's Next?
The BTG Hong Kong office increased significantly in size and functional coverage in the past two years.
Recently joined the Asia Pacific Medical Technology Association to actively participate in the regional community.
Growth strategy is to take BTG from new entrant to innovative market leader, to focus on patient outcomes, partnership with customers, education, scientific integrity, innovation, local evidence base, local relevance, long-term thought leader development.
Thrive to build a culture that does business the right way with nimble forward-looking attitudes to ways of working, ethics, compliance and execution.
D-BOX Technologies Inc.
Industry: Industrial Products, Technology
Headquartered in Québec, D-Box Technologies Inc. designs, manufactures, and commercializes cutting-edge motion systems intended for the entertainment and industrial markets. D-BOX Motion Code™ uses motion codes specifically programmed for each film; seats move to synchronize with onscreen action. In March 2011, the company partnered with Orange Sky Golden Harvest Entertainment Company to install 19 D-BOX MFX Seats at one of their prime Hong-Kong locations. Another agreement was made in Sept later that year to install an additional 19 seats. 
Hong Kong Advantages
New Partnership Opportunities:

The company had an

agreement with Orange Sky Golden Harvest Entertainment Company, one of  Asia's best known and most influential film and entertainment companies. It now boasts two D-BOX auditoriums in Hong Kong since 2011 when the agreement was made
Increased Expansion: "It's very exciting to further expand in Asia with Orange Sky Golden Harvest Entertainment Company...With this breakthrough into a new and promising international marketplace, we look forward experiencing the same success and growth as we have elsewhere in the world." 

-Claude Mc Master, President and CEO of D-BOX Technologies
What's Next?
"We see a great opportunity for continued expansion throughout the region with Orange Sky Golden Harvest given the company's business interests in Mainland China, Singapore and Taiwan. The success of our motion technology has soared here and we anticipate a promising future in this global marketplace." -Mc Master
In 2016 D-BOX Technologies Inc. announced that it has entered into an exclusive distribution agreement with Hangzhou JC City Management Investment Group Limited, a wholly-owned subsidiary of Gold Finance Group to distribute and promote D-BOX's high-end home entertainment motion system in China
Ecozine
Industry: Sustainable Lifestyle Magazine
Founded by Lisa Christensen, a passionate Canadian born ecologist and ardent outdoor enthusiast, Ecozine first launched in and headquartered in Hong Kong in May 2014. Ecozine is a magazine devoted to sustainable living offering a weekly e-newsletter, quarterly magazine and daily updates online. The e-newsletter is distributed to about 20,000 readers every week. As Asia's first and leading magazine devoted to sustainable lifestyle and environmental news, Ecozine highlights the ease and importance of low carbon living to a global audience. 
Hong Kong Advantages
Desire for Eco-friendliness: "Hong Kong is lagging Canada in terms of environmental efforts but is catching up quickly. Hong Kong is a hub for innovation and it is amazing to see the increasingly sustainable technology being created" -Nissa Marion, Ecozine's co-founder and Editor-in-Chief
"More and more consumers are determined to buy from responsible companies. And business is taking note" -Marion
Ease of Setting Up: The government is also putting in more resources and attention on social enterprises
What's Next?
Ecozine has plans to launch in other Asian cities such as Taiwan, Singapore, Mainland China and even back to Canada
GuestLogix
Industry: Software Technology
Headquarters in Toronto, GuestLogix is a leading global provider of onboard store technology and merchandising solutions, which help airlines and other travel operators create, manage, and control onboard retail environments tailored to the needs of their customers. Serves about 90 percent of the North American and 40 percent of the global airline passenger traffic through 260 cities worldwide and also provides business intelligence to help airlines understand travellers' purchasing behaviour. 
Hong Kong Advantages
Strong Institutions: "Hong Kong's strong legal, finance and banking systems give GuestLogix confidence, especially when data security and payment system reliability are the heart of our business. -Tony Sit, Senior Vice President and General Manager Asia Pacific,   GuestLogix Asia Pacific Ltd
New Market Opportunity: "With average airfares dropping year on year, airlines have to look for other income sources to balance the books. This provides an excellent market opportunity for GuestLogix" -Sit
Global Presence: Having a foothold in Hong Kong also helps GuestLogix to position itself as a truly global company
What's Next?
"We aim to make purchases happen earlier in the air before landing at a destination, which in return creates new revenue streams and improves bottom-line profit for airlines" -Sit
GuestLogix is planning to set up a solutions delivery team in Hong Kong to provide seamless customisation and supporting services for its Asian clients
IJW Dorweiler Ltd.
Industry: Professional Services, Consulting
2016 Hong Kong - Canada Business Leader Award Winner
IJW Dorweiler Ltd. is a leading corporate finance boutique that provides advisory and investment banking services to mid-market companies. IJW offers creativity and innovation by linking Canadian and Hong Kong markets, enabling small and medium sized enterprises to access cross-border transaction opportunities and funding networks ordinarily unavailable, and furnishing them with valuation expertise and strategic financial advice. Having established their joint company in Hong Kong in 2015, IJW with the engagement of the Hong Kong family, have showcased the value of the Hong Kong platform in their diversification in Asia. 
JET Design
Industry: Architecture
2017 Business Leader Award Winner
JET is a Canadian architect firm with a growing presence in Hong Kong and Asia. With creativity at the core of their business, JET's unique designs blend the inspiration of nature with technology and tools from the aerospace, automotive and industrial design industries. JET won the open competition against 100 architect firms from around the globe to design its showcase M+ Pavilion in Hong Kong's renowned West Kowloon Cultural District; building was completed in 2016.
Hong Kong Advantages
Hong Kong's first class reputation, educated designer talent pool and proximity to other Asian markets made setting up a subsidiary a logical choice for JET Design as they look to further expand their business in Asia. 
McMillan
Industry: Law
McMillan is a Canadian law firm serving public, private and not-for-profit clients across key industries in Canada, the United States and internationally. With recognized expertise and acknowledged leadership in major business sectors, it provides solutions-oriented legal advice. McMillan assisted Century Iron Mines, which maintains an office in Hong Kong, with its funding arrangements involving WISCO (Wuhan Steel) and earlier with its listing on the Toronto Stock Exchange. Office locations include Ottawa, Toronto, Calgary, Vancouver, Montréal, and Hong Kong.
Hong Kong Advantages
Strong Legal System: "Hong Kong has a legal system second to none. We focus on using the city as a jumping off point for investment into Canada, using the Hong Kong-Canada tax treaty and leveraging off the connections between Hong Kong and Mainland China to facilitate inbound work," -Stephen Wortley, Partner and Chair of Hong Kong office, McMillan
Supportive Community:  Wortley finds the Canadian business community in Hong Kong very supportive; he noted that the Canadian Trade Commission and the Canadian Chamber of Commerce in Hong Kong continually go out of their way to support Canadian businesses
What's Next?
Two partners and three other staff members are stationed in Hong Kong and the firm is actively looking for a senior merger and acquisition (M&A) lawyer and an associate
Nanoleaf
Industry: Electric Lighting Fixtures Manufacturing
Founded by three University of Toronto graduates, Nanoleaf began as a Kickstarter campaign in 2012 with the founders living in the production facility in China. The original product, the Nanolight, uses only 12 watts of electricity, generates over 1600 lumens, and is the world's most energy-efficient lightbulb. With help from Venture Capital firm Horizons Ventures, Nanoleaf raised almost $500,000 through two Kickstarter campaigns and has also launched into Hong Kong retail stores. The company has also expanded to focus on energy-efficient smart lighting. The company is now headquarted in Toronto with a satellite office in Hong Kong and a production and logistics facility in Shenzhen.
Hong Kong Advantages
High Tech Hub Characteristics: "The city has all the essential elements to become a high tech hub: proximity to China and its manufacturing/supply chains; rule of law to protect intellectual property; favourable taxation; a strong talent pool; favourable government resources; strong logistics hub and access to quality capital." - Jonathan Tam,  Business Development Manager – Asia Pacific
Proximity to Manufacturing Base: The co-founders found themselves splitting time between their Hong Kong co-working spaces and their Shenzhen office. According to co-founder and COO Christian Yan, door-to-door travel between the two neighboring cities only takes two hours by bus with Dongguan only an hour's drive out from Shenzhen
What's Next?
For 2017 the company is planning on integrating their products with Amazon Alexa and expanding on their 'Aurora' smart lighting product 
Science North
Industry: Science Museums
Science North is an educational resource for children and adults. It maintains the second- and eighth-largest science centres in Canada. In addition to the two science centres in Sudbury, Science North also oversees an award-winning Large Format Film production unit and an Exhibit Sales and Service unit, which develops custom and ready-made exhibits for sale or lease to science centres, museums, and other cultural institutions all over the world. In 2012 Science North celebrated its first lease of a traveling exhibition in Asia. The Hong Kong Science Museum hosted the exhibition, 'Creatures of the Abyss' from July 28, 2012 until October 17, 2012. 
Hong Kong Advantages 
Entry into the Asian Market: "This opening in Hong Kong marks our first venture into the Asian market with our travelling exhibits business, and that's a very exciting prospect for us" - Guy Labine, CEO of Science North
New Revenue Source: "Science North must create its own revenue sources, like selling services and exhibits to other science centres and museums worldwide. The Hong Kong Science Museum is one of many attractions in Asia that has indicated an interest in working with us on future projects and we look forward to delivering more of our exhibits and expertise to the Asian market in the years to come." - Labine
What's Next?
After its Hong Kong opportunity, in 2013 Science North and The Ontario Science Centre joined forces and established formal relationships with two major science museums in China. Three-year Memorandums of Understanding (MOU) were signed for 2013-2016
Though there has been no recent news on overseas activity, Science North's 2013-18 Strategic Plan still includes selling consulting services, exhibits and media productions to support the centre's development
Vancouver Airport Authority
Industry: Aviation
Community-based organization based in Vancouver and manages Vancouver International Airport (YVR), the second busiest airport in Canada. The Vancouver Airport Authority also invests in and manages various airports in Canada and internationally, as well as provides capital project management and consulting services to affiliated and non-affiliated entities. YVR opened an Asia office in Hong Kong in October 2014. 
Hong Kong Advantages
Attractive Time Zone Location: "Hong Kong is strategically located, within the same time zone or one hour's time difference of our business partners in Asia, making it very convenient for us to communicate with them on a regular basis"-Craig Richmond, President & CEO, Vancouver Airport Authority
Growing Transport Industry: Asia-Pacific's air transport industry represents the world's fastest growing airline market. Hong Kong International Airport is also the world's busiest cargo gateway and one of the world's top 10 busiest passenger airports
What's Next?
Vancouver Airport Authority's goal is to increase passenger and cargo traffic between Canada and the Hong Kong region, which ultimately contributes to economic growth and job creation on both sides of the Pacific
Vision Critical
Industry: Tech
Critical Vision provides a cloud-based customer intelligence platform that allows companies to build engaged, secure communities of customers they can use continuously, across the enterprise, for ongoing, real-time feedback and insight. The company's technology helps large, customer-centric enterprises discover what their customers want so they can deliver what they need. The customer intelligence platform replaces static data and cumbersome reports with real-time actionable customer intelligence that companies need to build better products, deliver better services and achieve better business outcomes. The company is headquartered in Vancouver, BC and opened its Asian Headquarters in Hong Kong in 2012. 
Hong Kong Advantages
Base for Asia: "Hong Kong allows Vision Critical to be closer with customers in Asia's international business centre. The city is a preferred location for overseas companies to manage their operation in Asia, mainly because of its simple and low tax regime, free flow of information and geographical location. Hong Kong's international competitiveness seeks the most innovative solutions that drive businesses to succeed" -Peter Harris, Managing Director of Vision Critical Asia-Pacific
Great Access to Asian Headquarters: "The city has a high concentration of international Asia based regional headquarters. It is an ideal geographic location for business travel, access to talent, and convergence of international east meets west lifestyle and culture" -Harris
What's Next?
"Our Hong Kong headquarters will focus on developing and serving Asian-based clients and partners. We will provide customised technical and research expertise specifically tailored to the needs of our clients and the market."                                                         -Andrew Reid, founder and CEO of Vision Critical.
Windset Farms
Windset Farms is one of North America's largest producers and marketers of greenhouse grown produce. We are based in Delta, British Columbia and have growing operations in Santa Maria, California as well as partner growers in Mexico.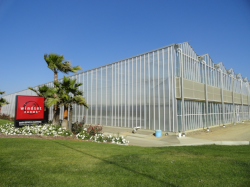 Their diverse portfolio of products, which include a variety of tomatoes, cucumbers, peppers, eggplants and lettuces, appeal to a broad spectrum of end consumers. They employ sustainable and socially responsible practices in all levels of our operations to ensure consistent, high quality produce is grown. Currently, they supply every major retailer in Western Canada and the United States. In recent years, as their domestic markets became more saturated, they looked elsewhere for opportunities to expand its consumer base. Asia presents a huge potential market which is relatively untapped in our categories. With a massive population, emerging markets and improving standards of living in many countries, they see Asia as the next strategic outlet for our products.
Hong Kong Advantages
Hong Kong's dynamic economy is driven by the principles of free trade and investment. Low barriers to entry, limited regulation and the widespread use of English make it a relatively easy market to operate in. Currently, all Windset products are exportable to Hong Kong.
Limited domestic supply, shifting consumer behaviour towards health-conscious food choices and an increasing population have all heightened the demand for fresh, imported vegetables. Canadian fruit and vegetable producers have an international reputation for supplying high quality, sustainably grown products. As a result, Windset has experienced consistent year over year growth since it entered the market in 2014.
In addition, multiple direct, daily flights and sound infrastructure provide great flexibility in minimizing transit time. In fact, despite the seemingly vast geographical distance between Asia and North America, transit times to Hong Kong are significantly shorter than many of our Canadian and American customers. Its favourable location makes it a strategic gateway to Mainland China and other nearby economic hubs.
What's Next?
"We are looking to expand our reach into Asia even further. We currently export to Hong Kong, Japan and Taiwan. We are constantly exploring and researching new opportunities. Our next target market is Singapore. Similar to Hong Kong, it plays a pivotal role as an open, attractive and stable business center in the heart of Asia. As previously mentioned, we will also continue our efforts to open the market to the Mainland."
-Natalie Lacusta, Market Development Analyst at Windset Farms